Event details
Gator Mike's Family Fun Park - 35 NE Pine Island Rd, Cape Coral, FL 33909

06/25/2022

12:30pm to 3:30pm
Gator Mike's Family Fun Park
12:30pm to 3:30pm
06/25/2022
Come out with us to Gator Mike's Family Fun Park in Cape Coral, FL located at 35 NE Pine Island Rd, Cape Coral, FL 33909. We will go for a round of mini-golf and one round of go-karts. Gator Mike's will also supply you with an arcade card with $6 worth of gameplay.
The end time is an estimation as it will depend on how quickly we move through the mini-golf. You will have time at the end to explore the arcade and other attractions, along with the snack bar on your own, if you wish.
You must pay your invoice in order to attend. 
You will meet us at the front entrance and we will all walk in together. Please arrive by 12:25PM.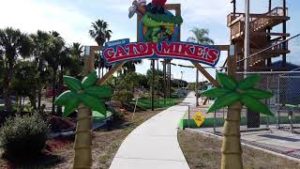 REMINDERS
Wear/bring sunscreen
Wear a hat and sunglasses if you wish
Wear comfortable clothing for being outdoors and in the heat (closed-toe shoes, avoid long sleeves/long pants)
Bring additional money if you wish to partake in the other attractions or snack bar – you can see what else they have to do HERE